Preventative and Hygiene Therapy
Healthy Mouth Cleaning
We believe a healthy mouth is the strongest foundation for a beautiful smile. Therefore, your periodontal care is our top priority. We customize cleanings to properly care for your specific needs based on your oral health. Whether a six-month or more frequent cleaning or full periodontal therapy, our hygienist will always provide the treatment you need while maintaining your absolute comfort.
Teeth cleaning is the removal of dental plaque and tartar from teeth to prevent cavities, gingivitis, and gum disease. Severe gum disease left untreated can lead to adult tooth loss.
Teeth cleaning (prophylaxis) by a dental hygienist removes tartar (mineralized plaque) that may develop even with careful brushing and flossing, especially in areas that are difficult to reach in routine tooth brushing. Professional cleaning includes tooth scaling and tooth polishing and debridement if too much tartar has accumulated. This involves the use of various instruments or devices to loosen and remove deposits from the teeth.
Most dental hygienists recommend having the teeth professionally cleaned at least twice per year or more frequently depending on your specific needs. More frequent cleaning and examination may be necessary during treatment of dental and other oral disorders. Routine examination of the teeth is recommended at least every year with necessary dental x-rays.
Healthy Mouth Cleaning vs. Periodontal Maintenance
Patients often ask the hygienist, "What's the difference between periodontal maintenance and a regular cleaning?" This is a fair question since the cost is different and it may feel like very similar procedure!
A "regular cleaning" is typically recommended every six months for patients who have healthy gums and bone. Think of it like changing the oil in your car periodically to protect and prevent damage to a healthy engine. During this appointment, we remove stains, soft plaque and hard calculus (tartar) above the gums, and check for cavities.
Periodontal disease is a bacterial infection caused by plaque that destroys the bone and fibers holding the teeth in place. Just like catching a cold, some people are more at risk than others. Smoking, stress, certain medications, diabetes, and prior gum problems are just some of the things that can increase your risk. When we treat periodontal disease, our goal is to stop the infection by cleaning and disinfecting the roots of the teeth above and below the gums in a procedure known as scaling and root planing. To help you maintain your optimal oral health, we usually will see patients with periodontal disease at 3-4 months intervals for periomaintence to clean above and below the gumline.  We will always monitor your condition closely, because we know periodontitis is episodic in nature.  There is no cure for periodontal disease, but it can be managed very well with excellent home care, diet, and regular professional cleanings.
Good periodontal health has many proven benefits that extend beyond clean teeth. It can affect blood sugar regulation in diabetics as well as your heart, respiratory and reproductive health -even your family's health – just to name a few. Don't underestimate your maintenance appointment; it is so much more than "just a cleaning."
Sealants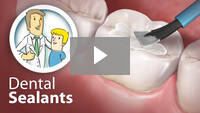 Dental sealants are recommended for children and adults who are prone to decay in the biting surfaces of the back teeth. Sealants are a painless, easy way of sealing the deep grooves on the biting surfaces of back teeth that are often prone to decay. This tooth color sealant prevents bacteria from being able to cause cavities in the grooves of the back teeth. During regular cleaning appointments, Dr. Rozema will make sure the sealants have not been dislodged and are still intact on the chewing surfaces of the teeth.
Fluoride
Fluoride helps prevent tooth decay by making the tooth more resistant to acid attacks from plaque bacteria and sugars in the mouth. It also reverses early decay.
In children under six years of age, fluoride becomes incorporated into the development of permanent teeth, making it difficult for acids to destroy the mineral layers on the teeth. Newer evidence suggests that fluoride treatments can be more beneficial for adults than was previously thought.
The professional fluoride preparation used in the dental office is a much stronger concentration than that in toothpastes or fluoride mouth rinses that may be available in a store or at a pharmacy. Depending on your oral health status, fluoride treatments may be recommended every three, six or twelve months.
Related Oral Hygiene Articles
Oral Hygiene – Dental Health for Life
The best tools for maintaining your oral health and minimizing dental problems are a quality toothbrush, toothpaste, a roll of dental floss, approved mouthwash and good diet. Unfortunately, myths and folklore abound on how and what to use to best effect. This article cuts through the confusion with a winning game plan for oral health… Read Article
Dental Hygiene Visit
Each dental hygiene visit begins by reviewing your health history to identify issues that may necessitate special precautions during dental hygiene care to ensure your safety and to prevent medical emergencies… Read Article
Flossing – A Different Approach
Flossing is important but challenging for some – this approach may make your life easier! Research suggests that while most people will habitually brush their teeth, developing a flossing habit is still a bit more difficult. Flossing however, remains the best method for most effectively removing plaque from between the teeth where the brush won't reach… Read Article
Make an appointment
Hours of Operation:
Monday-Wednesday: 7:30 a.m. – 4:00 p.m.
Thursday: 7:30 a.m. – 12:00 p.m.
Friday-Sunday: Closed